A key part of being able to run Facebook advertising is having a Facebook Page for your business. Don't have one? No problem. This guide will walk you through the process step by step.
Before we get started, there is one pre-requisite: You must have a personal Facebook account. If you've got one of those, move on. If not, swing by https://www.facebook.com and set one up, then come back here.
Have a personal Facebook account now? Great!
You'll also need a few more things to be able to complete your business page setup.
Your business name and description

Use your real business name whenever possible.
Write a short description of your business that you can use to fill out the About section of your business page.

A profile photo for your business

Make it 170 pixels by 170 pixels for best results.
Use your logo if possible unless your business trades on your personal image. In that case, use your picture.

A cover photo

Size your image to 720 pixels by 315 pixels.
Choose a photo of your office, store, staff, or current marketing campaign.
Step 1 : Sign Up
Go here – https://www.facebook.com/pages/create
Select Get Started under the Business or Brand option.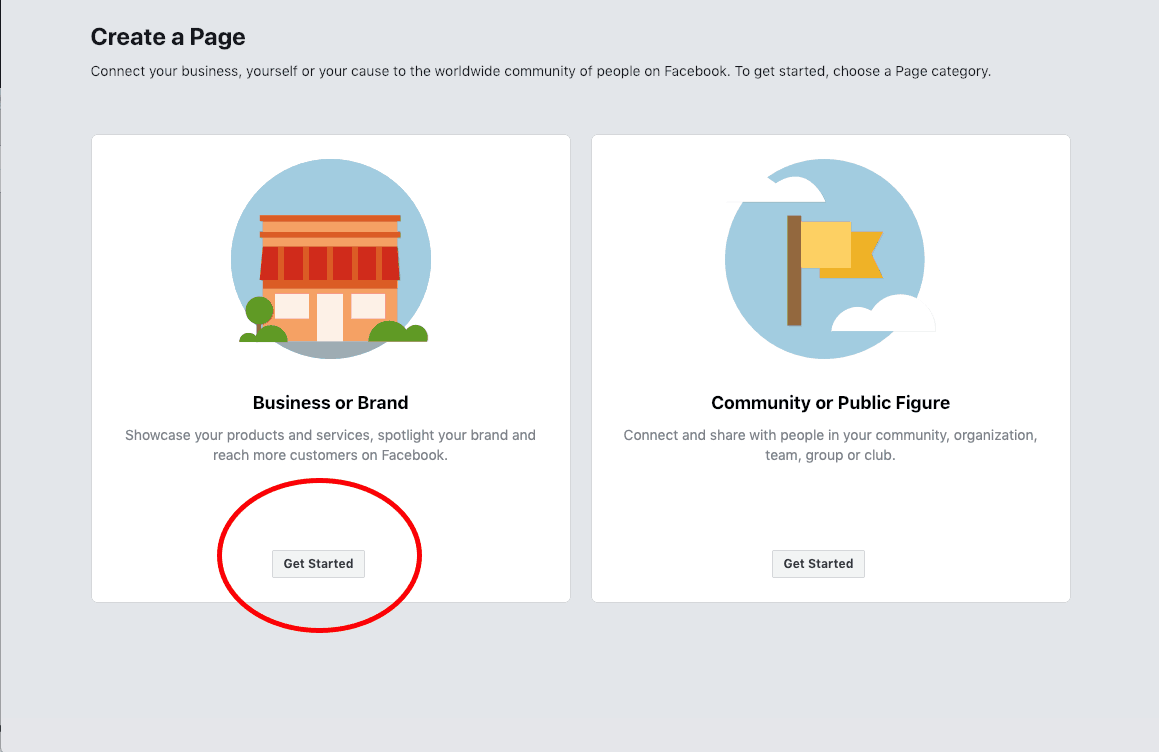 Step 2 : Enter your business information
Name your page using the name of your business.
Select the appropriate Category for your business.
Complete the remaining information for address and phone number.
When finished, click Continue.
Step 3 : Upload images
Click Upload a Profile Picture.
Select the Profile picture you already prepared as described above.
Click Upload a Cover Photo.
Select the Cover Photo you already prepared as described above.
For best results on your cover photo, use a PNG or JPG. Do not reposition or drag the photo around once uploaded.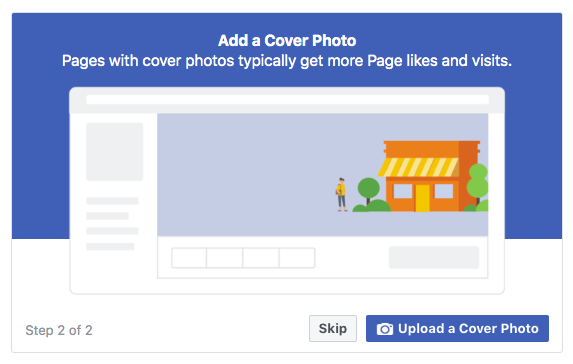 ,Step 4 : Create your username
In this step, username does not refer to what you log into Facebook with. Instead, we're talking about your vanity URL.  That's the short, easily remembered name that helps people find you on Facebook.
It's the difference between this :
https://www.facebook.com/Amazing-Insurance-Agency-917083178496674
or this:
https://fb.me/amazinginsuranceagency
Start by clicking Create Page @Username.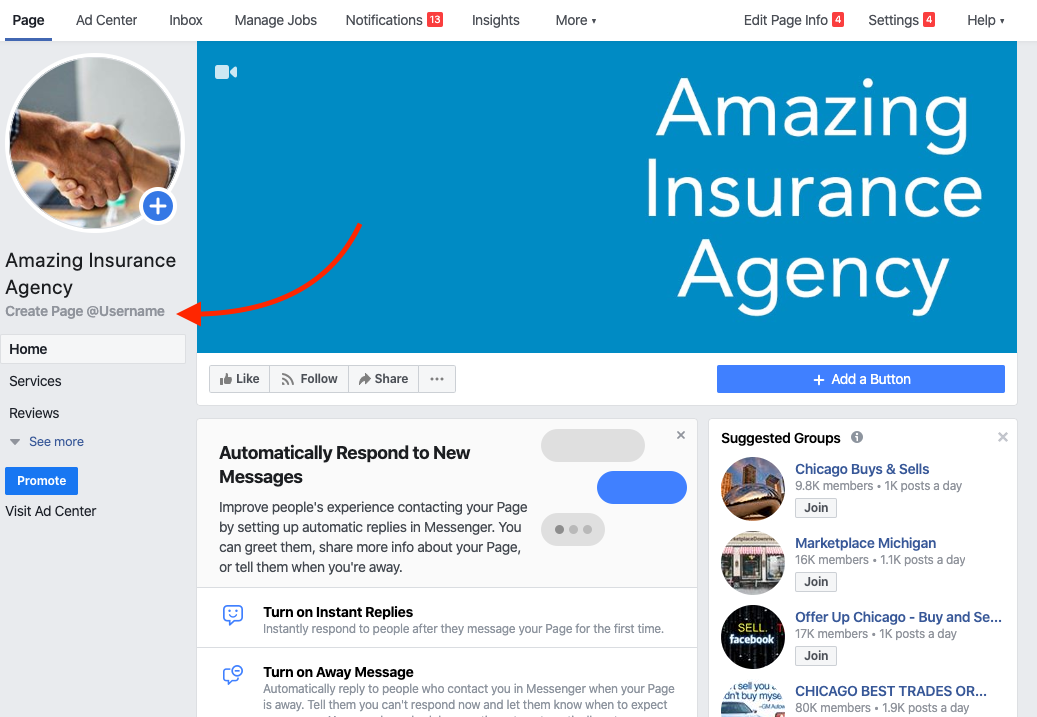 Next, choose your username. It can be up to 50 characters long. Once you choose your username, click Create Username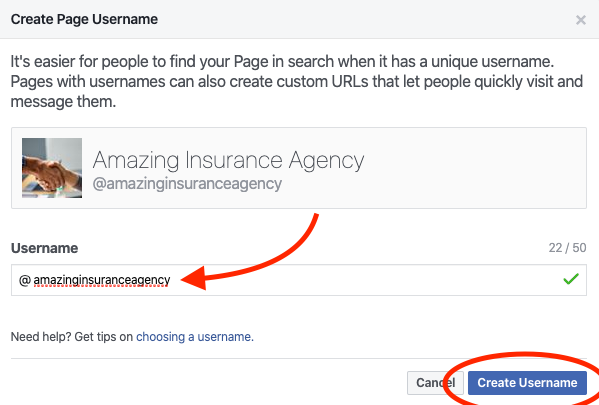 You'll see a message similar to below letting you know that your username is now all set!  Great job!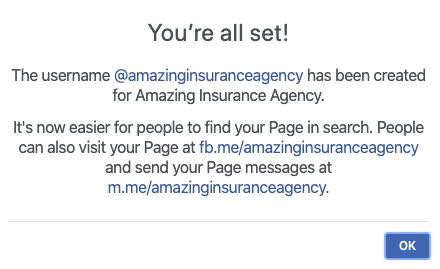 Step 5 : Business details and your story
Next let's add more details about your business and tell your story. Look to the menu on the left and select About.
Media Place Partners recommends that you enter as much information as possible about your business. The more complete your profile, the more trustworthy and credible your page will appear.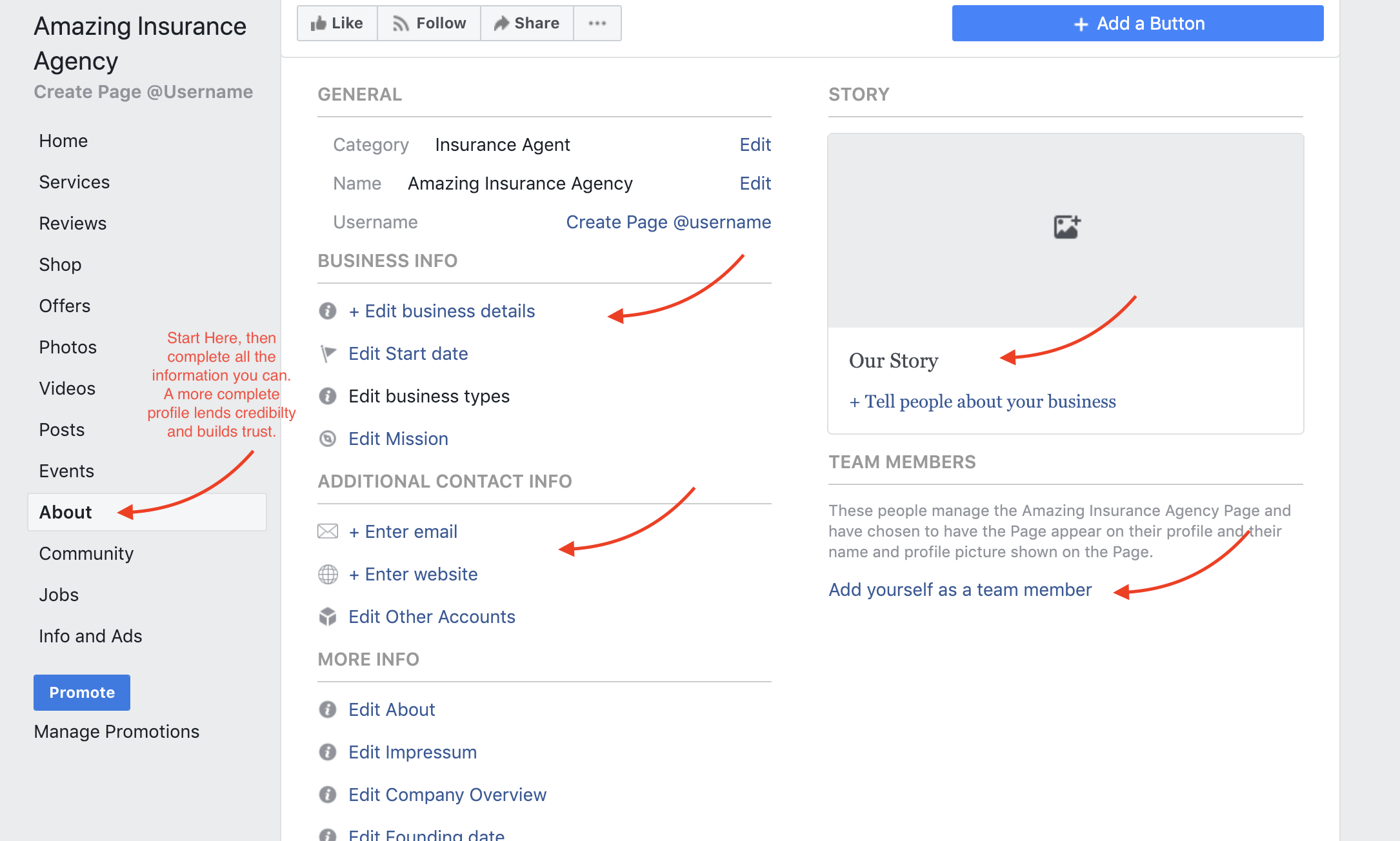 Great work!
You've created a Facebook page for your agency, claimed your username,  and filled out some of the basic information. We highly recommend adding more content and data to your Facebook page as you have time.